[PHOTOS] 12 Diseases That Just Won't Quit
4 min
Here are 12 diseases from around the world that seem to either keep coming back or just haven't left at all.



1. The Black Plague

Back in July of...
Here are 12 diseases from around the world that seem to either keep coming back or just haven't left at all.
1. The Black Plague
Back in July of last year, a town of about 30,000 people in China was sealed off and 151 residents were quarantined after a man died of bubonic (or "black") plague. The man found a dead marmot, which he cut up to feed to his dog. Later that day he developed a fever.
2. Botulism
The first new form of the botulinum toxin in more than 40 years was recently discovered by scientists. The toxin causes botulism, and is one of the most deadly poisons known. But they're keeping mum about it because there's no available treatment. Scientists fear the toxin could be used to create a powerful new biological weapon.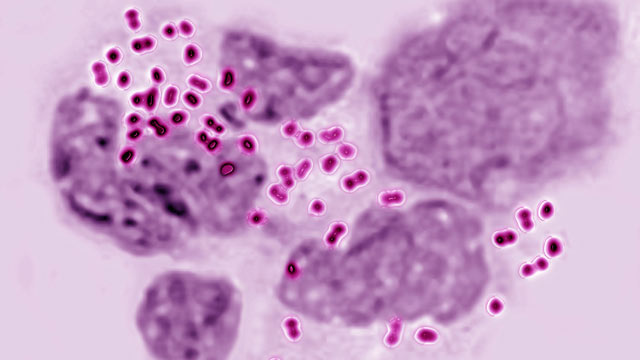 3. Gonorrhea
This disease seems to keep coming back and the CDC warns that there is now only one drug, ceftriaxone, which is effective as a first treatment for the sexually transmitted gonorrhea.
4. Black Lung Disease
Inhaling coal dust can lead to the deadly disease pneumoconiosis, known as black lung disease. It was once hoped that safety devices and filters would save miner's lungs, but an investigation by the National Public Radio and the Center for Public Integrity found that not only are the number of cases on the rise, but younger miners are being struck down by a faster progression of the disease.
5. Malaria
Inhaling coal can kill you, but burning it threatens your life in a more indirect way. As greenhouse gases warm the planet, research warns that the mosquitos may be able to spread malaria further and more easily. In the past, malaria affected North America as far north as Canada. Eradication programs largely wiped the disease out in the United States, but a warmer, wetter climate means more mosquitos, making it harder to control them. Malaria kills more than 1 million people a year, reports the Institute for Health Metrics and Evaluation (IHME) at the University of Washington.
6. Cholera
In the wake of the earthquake that devastated Port-au-Prince, a cholera outbreak raged across Haiti. About 8,400 Haitians have died of cholera since 2010, reports NPR, and 1,000 are still dying each year.
"Part of the reason we think the outbreak grew so quickly was the Haitian population had no immunity to cholera," Tufts University environmental engineer Daniele Lantagne told NPR. "Something like when the Europeans brought smallpox to the Americas."
7. Tuberculosis
Tuberculosis killed some of history's greats including Franz Kafka, George Orwell, Eleanor Roosevelt and Henry David Thoreau. The disease seemed to be on its way out after vaccines and a sequence of antibiotics were found to combat the disease. Unfortunately, drug-resistant strains developed in the 1980s and then spread. Tuberculosis is now globally the second largest killer after HIV/AIDS, when considering single infectious agents, according to the World Health Organization. In 2010, 1.4 million people died from tuberculosis.
8. Polio
Tuberculosis should serve as a warning in the fight against polio. When a disease is down, don't let it get back up. Four organizations -- Rotary International, the World Health Organization, the U.S. Centers for Disease Control and UNICEF -- are leading the charge to wipe polio off the planet.
9. Syphilis
Gonorrhea isn't the only venereal disease in town. Syphilis has been making a comeback, particularly in Germany and Australia. The historical bane of those who frequented the red-light district, syphilis stung famous libertines like Charles Baudelaire, Scott Joplin and Édouard Manet.
10. Meningitis
Meningococcal meningitis is rare, but can kill a child in a single day. Vaccination rates for the disease are low, but the Voices of Meningitis movement is pushing to increase vaccination rates for children in the United States. The disease spreads through simple contact and can be difficult to diagnose until is it too late.
11. Whooping Cough
About 48,277 cases of pertussis, or whooping cough, were reported to the CDC in 2012. It's the most since 1955, when 62,786 cases were reported. Whooping cough can be life threatening, especially to infants, and causes a cough that lasts 10 weeks or more.
12. Ebola
The Ebola outbreak in West Africa continues to spread like wildfire, and it shows no signs of slowing down.
According to a panel of more than 60 World Health Organization experts, "the current epidemiologic outlook is bleak."
Follow us on Twitter (@HealthcareGlbl) and like us on Facebook!
How healthcare can safeguard itself against cyberthreats
6 min
Jonathan Miles, Head of Strategic Intelligence and Security Research at Mimecast, tells us how the healthcare sector can protect itself from attacks
One of the most fundamental lessons from the COVID crisis is that health should always be a priority.  In a similar fashion to the human body that frequently fights off viruses and foreign invaders that intend to cause it harm, the sector itself is now a prime target for another type of external threat: cyberattacks.
The figures speak for themselves: between December and January this year, hospitals in the UK were at 89% capacity, with 7,000 fewer available beds than there usually are. As the pandemic increased pressure on hospitals, clinics, and research facilities to create a treatment for patients globally, it has left the sector exposed to hackers who, like a virus, have been targeting it relentlessly and evolving their tactics. 
From patient records being held ransom, to fake emails claiming to originate from the UN WHO, the NHS, or vaccine centres, through to attacks on the cold supply chain to find out the secret formula of the COVID vaccine, the healthcare industry is facing constant cyberattacks and struggling to cope. This threat is unlikely to go away anytime soon – and as such, the industry needs to take a proactive, preventative stance to stay safe in a dynamic digital world. 
Going digital 
The responsive nature of healthcare – particularly of hospitals – means that efficiency is crucial to the industry's standard operations. To support this, the sector has been embracing technological advancements that can improve the quality of work, enabling staff to meet pressing deadlines, and enhancing patient care. For example, the industry has been digitising records and improving its ways of working through digital means over the past few years. 
This shift is critical to offer high quality patient care; yet, it also means the sector has become more dependent on IT, which can come with a risk if cybersecurity processes employed are deemed as inadequate. 
Without the correct security measures in place, the desired efficiency gains realised, can be easily lost in a heartbeat. Simply put, an elementary glitch in the system can have a tremendous ripple effect on many areas, from accessing patient records and conducting scans, to maintaining physical security and protecting the intellectual property of experimental treatment development.
To prevent this, healthcare organisations need to ensure they're considering cybersecurity as part of their overall digital transformation strategy – and setting the right foundations to create a culture where safety goes hand in hand with patient care. 
Strengthening defences
Before implementing cybersecurity process, healthcare organisations need to assess the potential risks they face. Depending on how much confidential data the trust has, where it is stored, who has access to it and via which means, the cybersecurity strategy and associated solutions will change. 
It's fair to say that a medical device start-up where all employees have a corporate-sanctioned laptop and access data via a VPN will have radically different needs to a large hospital with hundreds of frontline workers connecting to the hospital's Wi-Fi using their personal device. 
These requirements will pale by comparison to a global pharmaceutical giant with offices in multiple locations, a large R&D department researching new treatments for complex diseases and a fully integrated supply chain. Considering the existing setup and what the organisations is looking to achieve with its digital transformation strategy will therefore have an immediate impact on the cybersecurity strategy.
Despite this, there are fundamentals that any organisation should implement: 
Review and test your back-up policy to ensure it is thorough and sufficient – By checking that the organisation's back-up is running smoothly, IT teams can limit any risks of disruption in the midst of an incident and of losing data permanently.
In our recent State of Email Security report, we found that six out of ten organisations have been victims of ransomware in 2020. As a result, afflicted organisations have lost an average of six days to downtime. One third of organisations even admitted that they failed to get their data back, despite paying the ransom. In the healthcare industry, this could mean losing valuable patient records or data related to new treatments – two areas the sector cannot afford to be cavalier about.
Conduct due diligence across the organisation's supply chain – Healthcare organisations should review their ways of working with partners, providers and regulatory institutions they work with in order to prevent any weak link in their cybersecurity chain. Without this due diligence, organisations leave themselves exposed to the risks of third party-led incidents. 
Roll out mandatory cybersecurity awareness training - Healthcare organisations shouldn't neglect the training and awareness of their entire staff – including frontline workers who may not access the corporate network on a regular basis. According to our State of Email Security report, only one fifth of organisations carry out ongoing cyber awareness training.
This suggests it is not widely considered as a fundamental part of most organisations cyber-resilience strategy, despite the fact many employees rely on their organisation's corporate network to work. By providing systematic training, healthcare organisations can help workers at all levels better understand the current cyberthreats they face, how they could impact their organisation, the role they play in defending the networks, and develop consistent, good cybersecurity hygiene habits to limit the risks of incidents. 
Consider a degree of separation – Information and Operational Technology (IT and OT) networks should be separated.
Although mutually supported and reliance on each other, employees shouldn't be accessing one via the other. This should be complemented by a considered tried and tested contingency and resiliency plan that allows crucial services to function unabated should there be a compromise. Similarly, admin terminals should not have internet access to afford a degree of hardening and protection for these critical accounts.
As the sector becomes a common target for fraudulent and malicious activity, putting cybersecurity at the core of the organisation's operations is critical. It will help limit the risks of disruption due to cyberattacks, reduce time spent by the cybersecurity team to resolve easily avoidable errors, and ensure that institutions can deliver patient care, safe in the knowledge that their networks are safe.  
Fighting future threats
With technology continuing to change the face of healthcare, the surface area and vectors available for attacks by malicious actors is constantly increasing. With the introduction of apps, networked monitoring devices, and a need for communication, the attack vector is ever expanding, a trend that needs to be monitored and secured against.
To prevent any damage to patients, staff, or the organisation they are responsible for, healthcare leaders must put security front and centre of their digital transformation strategy. Only then can the sector harness the full benefits of technology. Doing this should include implementing cybersecurity awareness training to challenge misconceptions around security, encourage conversation, and to ensure employee knowledge of the security basics and threats faced. 
This ultimately allows healthcare organisations to do what they do best: provide the highest standard of patient care, safe in the knowledge that their operations, patients, and data are safe.